This particular editorial endeavor for the Best Food Importers website shall deal with the new general food labeling requirements that came into effect at the end of the last year through the new Regulation (EU) No. 1169/2011. This new regulation came in effect beginning with 13th of December 2014, with the exception of mandatory nutrition declaration which will apply from 13th of December 2016. The requirements regarding the mandatory labeling of country of origin for pig, sheep, goat and poultry meat will apply from 2015 (date to be specified).
Therefore, even if this new EU regulation was published in 2011, it is a subject of great actuality for food producers of any type that want to enter the highly regulated markets from the countries of the European Union. This general presentation is meant to raise awareness on this topic, highlighting the differences between the new requirements legislatively imposed on this particular aspect of food commercialization and the former requirements that were in effect until the end of 2014. Thus, here are, for your consideration, the main changes in the list of mandatory requirements for any type of food labeling practices.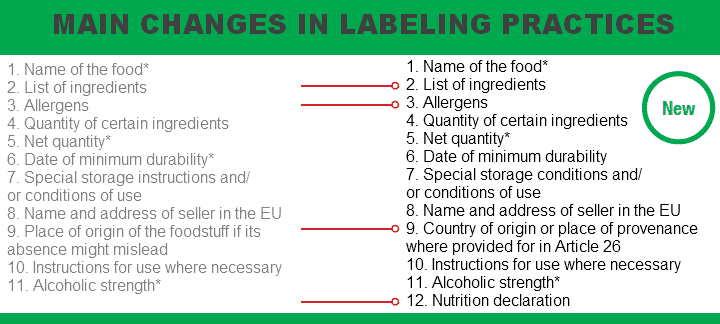 From 13th December 2014 it is no longer mandatory to have the date of minimum durability in the field of vision. However to comply with the current legislation the name of food, the net quantity, the date of minimum durability, and the alcoholic strength (if applicable) must be in the same field of vision until that date. All mandatory information needs to meet the requirements of font size, topic that shall be the subject of our next installment of this new article for the Best Food Importers website.
Image courtesy of VFS Digital Design – Some rights reserved
© www.bestfoodimporters.com 2014