2021 was another year intertwined by Covid-19 distress for the food industry around the globe, with lots of import/export bans, restrictions, new regulations, bureaucracy, food and staff shortages… but we also had sustainability programs being worked on, Covid-19 recovery, lifted trade bans, import records, and new trade collaborations to celebrate the dynamic global food and beverage market.
On our side, like the usual, in 2021 we strived to improve our user experience and bring value to our customers by working on a plethora of new features, databases, updates, UI improvements, insightful market analysis, industry articles and marketing materials designed for food exporters to reach their full business potential, among others.
Have a closer look at the highlights of the year 2021: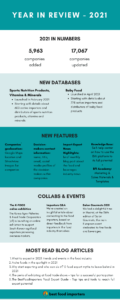 With 2021 ending, we would like to take a brief moment to appreciate how far we've come and to say we're ready to start a new year full of exciting projects. We are already preparing new surprises for our customers and we can`t wait to bring them to light!
Warm wishes and a Happy New Year, everyone!
The BestFoodImporters Team